Board Certified Doctors And Nurse Practitioners Providing Exceptional Care For Your Health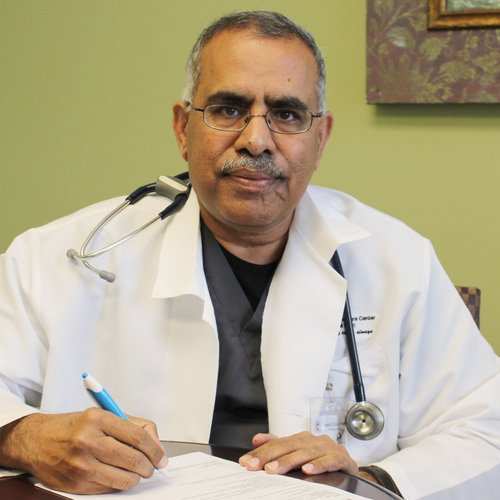 Dr. Kannappan Krishnaswamy
Dr. Kannappan Krishnaswamy, affectionately referred to as "Dr. K" by his cherished patients, stands as an eminent figure in the realm of healthcare. As a distinguished Board Certified Internal Medicine physician, his expertise encompasses a holistic approach to the well-being of both adults and older children.
Dr. K's illustrious journey led him through an exceptional training expedition, culminating in an affiliation with the renowned Albert Einstein College of Medicine in New York – an institution revered for its unwavering commitment to medical excellence. His formidable knowledge and skill set were further refined through a comprehensive pediatric residency at the prestigious University of the West Indies. This extraordinary tenure not only earned him a coveted Degree of Advanced Diploma in Child Health but also endowed him with a profound comprehension of the intricate art of pediatric care.
A luminary with a global footprint, Dr. K has dedicated an impressive span of 25 years to the noble vocation of healing. His benevolent influence has graced lives across continents, resonating with diverse communities and cultures. A true paragon of medical compassion and erudition, Dr. K's unwavering dedication has kindled countless rays of hope in the hearts of those he has cared for.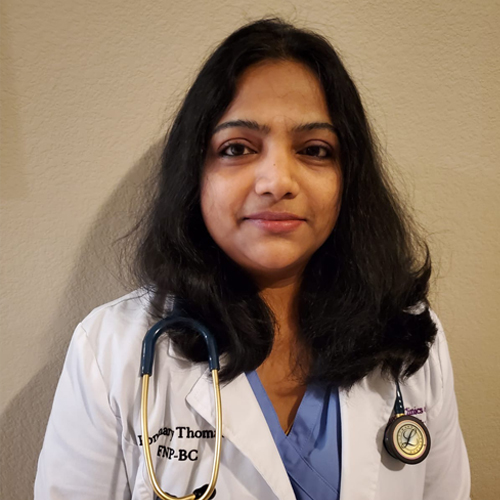 Ponmary Thomas
Ponmary Thomas stands as a distinguished board-certified Family Practice Nurse Practitioner, boasting a wealth of clinical experience exceeding a decade. A proud alumna of the esteemed University of Wisconsin Milwaukee, she earned her coveted MSN-FNP degree in 2012, signifying her dedication to advancing her nursing prowess.
Ponmary's profound expertise extends across the entire spectrum of patient demographics, exemplifying her commitment to comprehensive care. Her proficiency encompasses Preventative Medicine, a vital facet in maintaining the well-being of her patients. Furthermore, she possesses a seasoned aptitude for managing chronic diseases, a testament to her mastery of complex medical scenarios. Particularly notable is her adeptness in tending to the unique needs of geriatric patients, a mark of her compassionate approach and nuanced understanding of aging health.
Beyond her professional pursuits, Ponmary finds solace and joy in the embrace of her family and the exploration of new horizons through travel. This multi-dimensional aspect of her life showcases her ability to achieve a harmonious equilibrium between her devotion to patients and her personal enrichment.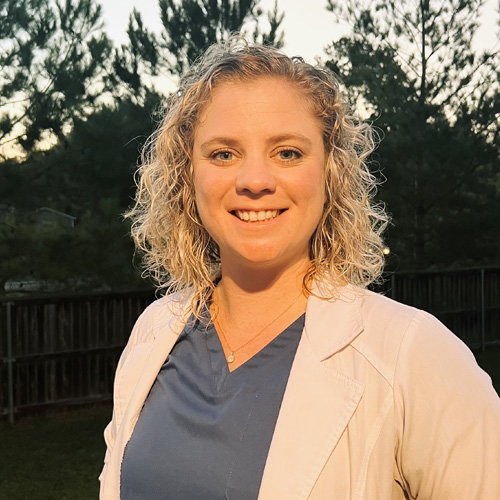 Hannah Hohlt AGNP-C
Hannah Hohlt's educational journey commenced with the attainment of a Bachelor of Science in Sports Medicine from Texas Lutheran University in 2014. Her pursuit of knowledge led her to the University of Texas Medical Branch, where she acquired her Bachelor of Nursing in 2016. Demonstrating a steadfast commitment to excellence, she continued her academic voyage at the same institution, culminating in the acquisition of a Master's in Nursing with a specialized focus on the comprehensive care of older children and adults.
Drawing from a diverse background encompassing 5 years of dedicated service as a Registered Nurse across various specialties and learning environments, Hannah possesses a remarkable ability to provide patients with care marked by genuine respect and compassion. These formative experiences have fortified her capability to navigate a broad spectrum of medical situations with skill and empathy.
During her moments of respite, Hannah finds solace in engaging in rounds of golf, cherishing quality time with her husband and their trio of dogs, and embarking on enriching travel adventures. These personal pursuits underscore her well-rounded nature and her knack for striking a harmonious balance between professional fulfillment and personal rejuvenation.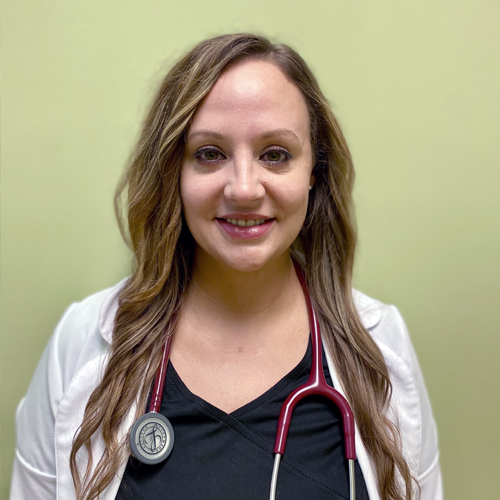 Karrie Hamman APRN-FNP-C
Karrie Hamman, a distinguished board-certified Family Nurse Practitioner, attained her master's degree from the esteemed University of Texas Arlington in 2021. With an expansive nursing career spanning 11 years, her expertise has traversed diverse domains including neonatal ICU, pediatrics, and outpatient surgical services.
This multifaceted experience has endowed Karrie with a comprehensive skill set, positioning her as an adept caregiver capable of providing safe and effective healthcare across the entire spectrum of a patient's life. Her proficiency in various clinical settings underscores her versatility and adaptability in meeting the unique needs of individuals at different stages of life.
Outside of her professional endeavors, Karrie finds joy in the company of her family and friends, cherishing the moments spent in their presence. This balanced approach to life is a testament to her ability to blend her dedication to patient care with a fulfilling personal life.